You Don't Have To Live With Back Pain
If you are living with chronic back pain in Mira Mesa-Sorrento Valley then you know it's no walk in the park. Almost everyone will experience some form of back pain, ranging from slightly irritating to completely debilitating, in their lifetime. Whatever the degree of pain you are experiencing and whether it is acute or has become chronic, at the very least you would probably rather live without it and in the most extreme cases in can be difficult to go on living with it. The following aims to help you to understand what causes low back pain, and how chiropractic treatment can help you achieve lasting back health, so that you can go on enjoying those activities that you did before back pain.
The back is a broad term that covers a large area of the body, made up of many tendons, ligaments, discs, muscles, and bones. Without a solid understanding of these different parts, it can complicated to locate and address the source of the back pain. The following breakdown explains some of the most common issues, and their identifying features. It also explains how chiropractic medicine can help to resolve them. This is a general guideline to help you in your quest for effective treatment, but we highly recommend that you seek a professional opinion to properly diagnose these issues.
PainCare of San Diego
Office Hours
Monday 8:30 AM – 6:00 PM
Tuesday 8:30 AM – 6:00 PM
Wednesday 8:30 AM – 6:00 PM
Thursday 8:30 AM – 6:00 PM
Friday 8:30 AM – 6:00 PM
Saturday Closed
Sunday Closed
Book Your Appointment Today
(858) 202-1546
or
If you are ready to begin treatment and find healing with PainCare of San Diego, call (858) 202-1546 today or reach us through the contact box below. We will provide you with the help and relief you need.
DISC BULGES AND HERNIATION
MUSCULAR, TENDON AND LIGAMENT STRAINS
ADDITIONAL CAUSES OF BACK PAIN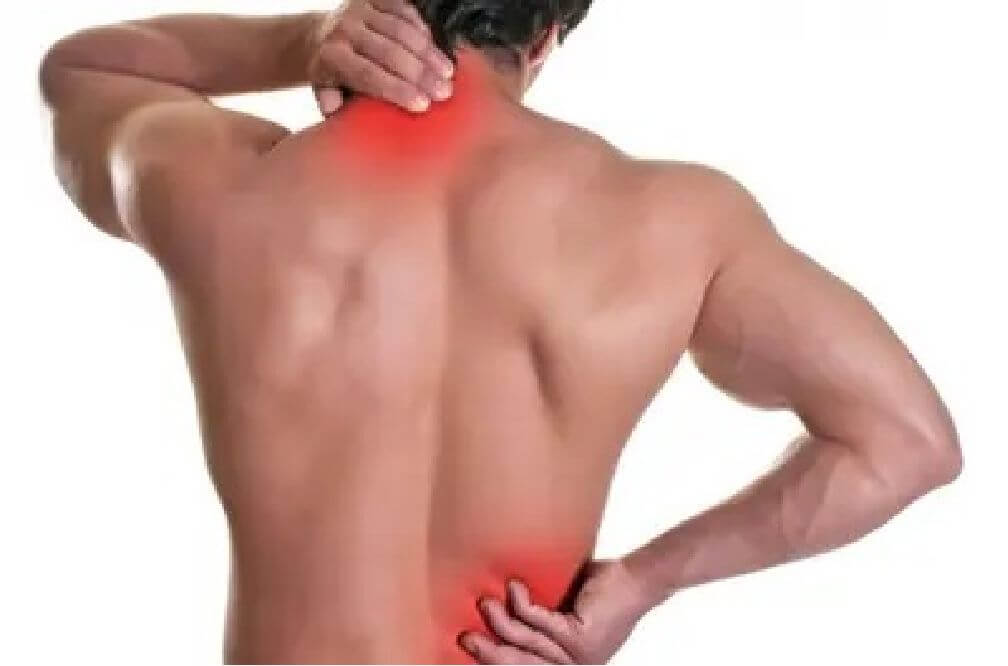 Any joint of the spine, including the Sacroiliac Joints, can cause mechanical pain. Joints are designed to move and when they do not, pain and degeneration occurs. Conservative treatment is designed at maximizing motion, improving flexibility and finally maximizing muscular coordination, endurance and strength.
JOINT DYSFUNCTION – NECK AND BACK PAIN
This occurs when one of the joints in the spine or limbs loses its normal joint play (resiliency and shock absorption). It is detected through motion palpation, a procedure in which the doctor gently moves the joint in different directions and assesses its joint play. When a joint develops dysfunction, its normal range of movement may be affected and it can become painful. In addition, joint dysfunction can lead to a muscle imbalance and muscle pain and a vicious cycle:
The loss of joint play can cause abnormal signals to the nervous system (there are an abundance of nerve receptors in the joint)
The muscles related to that joint can subsequently become tense or, conversely, underactive
The resulting muscle imbalance can place increased stress on the joint, aggravating the joint dysfunction that already exists
LUMBAR HERNIATED DISC / SCIATICA SYMPTOMS
Pain along the large sciatic nerve that runs from the lower back down through the buttocks and along the back of each leg – is a relatively common form of back pain. Sciatica is usually caused by pressure on the sciatic nerve from a herniated disc (also referred to as a bulging disc, ruptured disc or pinched nerve). The problem is often diagnosed as a "radiculopathy", meaning that a disc has protruded from its normal position in the vertebral column and is putting pressure on the radicular nerve (nerve root). For some people, the pain from sciatica can be severe and debilitating. For others, the pain might be infrequent and irritating, but has the potential to get worse. Usually, sciatica only affects one side, and the pain often radiates through the buttock and/or leg. One or more of the following sensations may occur:
Pain in the buttocks and/or leg that is worse when sitting.
Burning or tingling down the leg.
Weakness, numbness or difficulty moving the leg or foot.
A constant pain on one side of the buttocks.
A shooting pain that makes it difficult to stand up.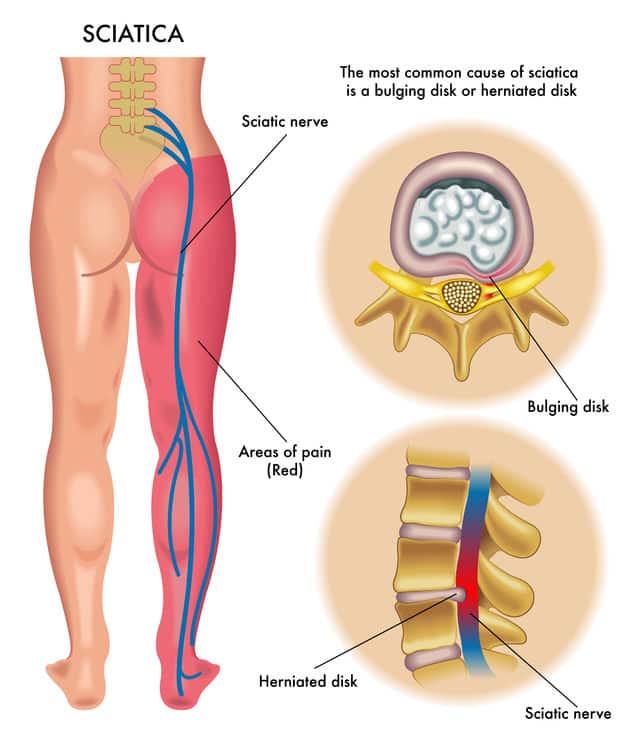 SCIATICA
Symptoms that may constitute a medical emergency include progressive weakness in the legs or bladder/bowel incontinence. 
Patients with these symptoms may have cauda equina syndrome and should seek immediate medical attention. Any condition that causes irritation or impingement on the sciatic nerve can cause the pain associated with sciatica. 
The most common cause is lumbar herniated disc. Other common causes include lumbar spinal stenosis, degenerative disc disease, or isthmic spondylolisthesis. 
Nerve pain is caused by a combination of pressure and inflammation on the nerve root, and treatment is centered on relieving both of these conditions. 
Conservative treatment is designed to decrease pain and inflammation, decrease intra-discal pressure, improve flexibility and mobility and to improve muscular function.
Mechanical Neck and Back Pain
When joint dysfunction develops, muscles are affected. Some muscles respond by becoming tense and overactive, while others respond by becoming inhibited and underactive. In either case, these muscles can develop trigger points. 
Trigger points are areas of congestion within the muscle where toxins accumulate (2). These toxins can irritate the nerve endings within the muscle and produce pain. This pain can occur in the muscle itself or can be referred pain (perceived in other areas of the body). 
The resulting muscle imbalance can place increased stress on the joint, aggravating the joint dysfunction that already exists The muscle can also send abnormal neurological signals into the nervous system. This can then cause disruption of the ability of the nervous system to properly regulate muscles in other parts of the body, leading to the development of faulty movement patterns. 
Conservative treatment is designed at maximizing motion, improving flexibility and finally maximizing muscular coordination, endurance and strength.