Chiropractic Treatment
for Auto Accident Injuries
Chiropractic Care for
Sports Injuries
Non-Surgical Spinal
Decompression Treatment
PainCare of San Diego
Office Hours
Mon. 8:30 AM – 6:00 PM
Tuesday 8:30 AM – 6:00 PM
Wed. 8:30 AM – 6:00 PM
Thurs. 8:30 AM – 6:00 PM
Fri. 8:30 AM – 6:00 PM
Saturday Closed
Sunday Closed
Book Your Appointment Today
(858) 202-1546
or
At PainCare of San Diego, we offer chiropractic services with our focus always centered on the optimal performance of the spine. Dr. Danny Song specializes in complicated disc related trauma and injury, with a core practice of traditional manipulative, gentle, and therapeutic rehabilitation. 
To achieve this we assist patients in planning a personalized health plan that is developed using their personal background. We take a holistic approach to ensure that we are supporting the whole mind body connection. Measurably we focus on improving the spine as the power source and believe that educating our patients empowers them to succeed.
It is always our top goal to achieve optimal health for all of our patients. That usually means something different for everybody. We understand that each person is unique and has an individual purpose and we want to support their very best. We believe that when a patient improves physically, all areas of life will improve too.
Working with a Chiropractor Can Make a Difference in Your Health
Chiropractic Care can help heal injuries to the body in a way that no other treatment can. Chiropractic care is different than medical care. Chiropractic care can reveal the root cause of many illnesses and diseases that are often masked by medical treatment. At PainCare of San Diego, we believe in getting to the root of the problem, identifying the best solution and naturally returning the body to optimal health.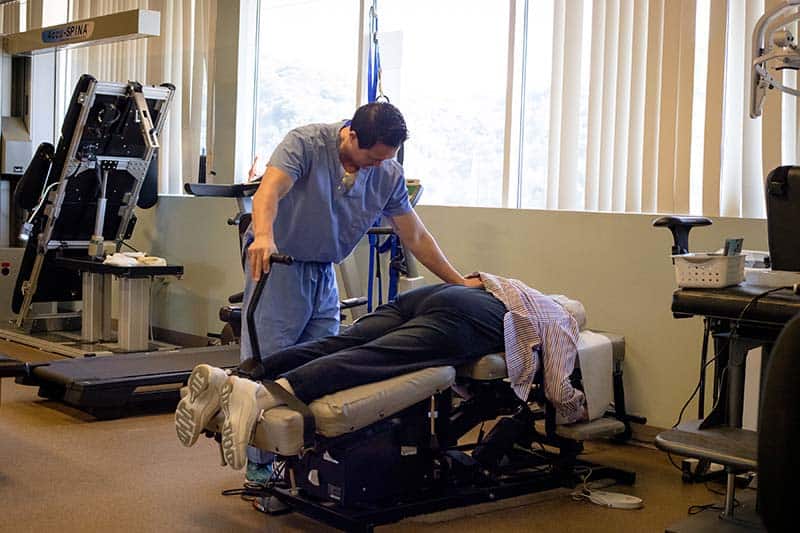 As medical practitioners, we encourage our patients to live a healthy lifestyle. We believe chiropractic care is an integral part of a healthy lifestyle and that proper alignment of the spine prevents ailments in the body.
As a PainCare of San Diego patient, you are a partner in your health. We support and encourage each one of our patients to be an active participant in the development of their optimal health plan.
Initially, the doctor will assess the physical health of your spine through X-rays to ensure the patient doctor team is in agreement with the physical health of the spine and the possible cause for any ailment.
With a thorough understanding of our patients' goals and the chiropractor's recommendations, the patient/chiropractor team will choose an option that will be best suited for their short term or long term goals.
Our commitment at PainCare of San Diego is to serve our patients with quality and professional care, developing a trusting relationship with the patient/doctor team and ensuring optimal health for all who desire to have a healthy spine and a healthy life.
Dr. Danny Song is committed to going the extra mile to educate his patients and encourage their growth towards success by delivering the best possible treatments chiropractic care has to offer.
Medical & Holistic Treatment Plans for Pain
Chiropractic care focuses on weaknesses and misalignments in your skeleton and your muscles.
We carefully manipulate these systems to relieve pain and joint soreness. We want to restore you to full functionality and do so with care and concern for both your immediate pain and your long-term health goals.
Our services can help patients suffering from many ailments, including:
Pediatric Chiropractic care
Prenatal & Postnatal Chiropractic Care
Work Related & Personal Injuries
Ryan F.


"I have been having back pain. So I went to see Dr. Song for a couple adjustments. He and his team did a great job and the pain is gone. I would recommended all my friends and my family to him and his team at Paincare of San Diego."
Alex R.

"Dr. Song and Saluta are excellent, worked on my neck and shoulders after I got in a accident. They both can tell exactly where the muscles are aching and loosening up the knots. Also gave me some Neck stretching exercises I can do at home so I can relax my shoulder and neck muscles. Thank you!"
Lauren S.


"Dr. Song has been taking care of my back and neck health for over 9 years. He has also gone above and beyond in providing the highest quality care for my friends and family. He is an accomplished an upbeat chiropractor who really excels at making patients feel like they are number one in his care! He constantly empathizes with this patients' pain while suggesting other holistic and pro-active disciplines that help his patients feel empowered and more in control of their lives. I can't say enough good things about Dr. Song throughout all these years he has become my trusted ally in my battle with chronic pain. "
Meet Your Chiropractic Specialist
Providing Complete Chiropractic Services for Adults and Children.
DR. DANNY SONG D.C. PTA
Dr. Song is a Doctor of Chiropractic, Licensed Physical Therapy Assistant and a Qualified Medical Examiner. 

He is also credential as a Diplomate through the American Academy of Pain Management.

Dr. Song graduated on the Dean's List from the Southern California University of Health Sciences.

He specializes in chiropractic, physical rehabilitation, exercise physiology and nutritional counseling
Book an Appointment with Dr. Song Today for Life Without Pain (858) 202-1546
Providing Multiple Approaches
to Relieve Your Pain
Promoting Holistic, Natural Treatments
Comprehensive Treatment plans to Alleviate Pain
Covered by Most Insurance
State-of-the-Art Medical Equipment
To Start Your Journey to a Pain-Free Life
Call us at (858) 202-1546