Non-Surgical Spinal Decompression
PainCare of San Diego
Office Hours
Mon. 8:30 AM – 6:00 PM
Tues. 8:30 AM – 6:00 PM
Wed. 8:30 AM – 6:00 PM
Thur. 8:30 AM – 6:00 PM
Fri. 8:30 AM – 6:00 PM
Saturday Closed
Sunday Closed
Book Your Appointment Today
(858) 202-1546
Spinal Decompression in San Diego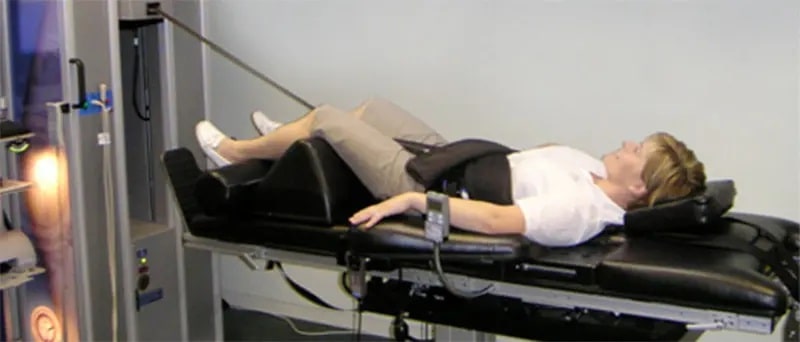 The NEW Treatment for Neck and Low Back Pain… Spinal Decompression
PainCare of San Diego offers the latest technology in non-surgical treatment of sciatica, neck and lower back pain. Our spinal decompression treatment is affective for a variety of conditions including:
Neck pain
Back pain
Sciatica
Herniated and bulging discs
Degenerative disk disease
Spinal stenosis
At Pain Care of San Diego, we are dedicated to improving the health and function of our patients. We do this by combining traditional physical rehabilitation with state-of-the-art technology to deliver an unprecedented level of service. Our results speak for themselves…
In the past, a patient suffering from disc problems usually was given pain medications, instructed to refrain from physical activities, referred for physical therapy, and when they weren't progressing they were sent for spinal surgery. Conservative chiropractic care proved very helpful in many cases, yet there have been some cases when surgery seemed to be the only other option…until now.
Today, you don't have to live with that pain anymore. Thanks to the concerted efforts of a team of top physicians and medical engineers, Spinal Decompression was developed to effectively treat lower back pain and sciatica resulting from herniated or deteriorated discs. Spinal Decompression not only significantly reduces back pain in many patients, but also enables the majority of patients to return to more active lifestyles.
DOES SPINAL DECOMPRESSION REALLY WORK?
Spinal Decompression has been proven effective in relieving the pain associated with bulging and herniated discs, degenerative disc disease, sciatica, and even relapse or failed back surgery. Since its release, clinical studies have revealed an amazing success rate in treating lumbar disc related problems with Spinal Decompression.
Spinal Decompression uses state-of-the-art technology to apply a distraction force to relieve nerve compression often associated with low back pain and sciatica.
Contact our office at (858) 202-1546 to schedule an initial consultation with our doctor to determine if you are a candidate for care with spinal decompression. After carefully studying your case history and exam findings, we will sit down and explain his recommended plan of action for you. After answering any questions you may have about the recommended plan, you may begin your care with spinal decompression.
Laura M.


"I have been coming to PainCare of SD now for about 6 weeks. Since the first day I have visited them they have been an awesome group of people to work with. Doctors and message therapists have been great and knowledgeable with my specific problem. I have seen major improvements in my pain and would highly recommend them to anyone who is suffering with body pain."
Ola Z.
Yelp


"They are the best! Dr. Song and Dr. Saluda have been keeping me functioning for over 10 years. I have lots of acute injuries on top of chronic pain and they have returned me to functioning and not having to resort to pain meds or surgery through all of it. Nobody ever made as much of a positive difference in my life.
Renee N.


"Dr. Song, Dr. Moon,and team are all wonderful people. They all care about your well being and want to help you. They listen to your concerns. I have never been to a place where the whole team work together to try and make you better, I look forward to my treatments here and that's a great thing. As soon as Walk in, the front desk always greet you with a smile and a Hello and welcome with your last name. LOVE IT!"
Start Your Journey To A Pain-Free Life
Call
(858) 202-1546
Providing Multiple Approaches
to Relieve Your Pain
Promoting Holistic, Natural Treatments
Comprehensive Treatment plans to Alleviate Pain
Covered by Most Insurance
State-of-the-Art Medical Equipment